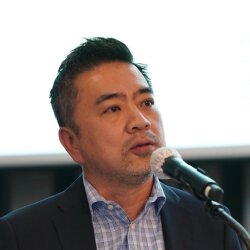 Jin Justin
Company: Axia materials Co., LTD.
About the speaker:
Co-CEO of BA Energy Co., Ltd. in Korea
Co-Founder of CO3 Holdings Inc. in NC, USA
Founder of Axia Materials Co., Ltd. in Korea,
Master's and Bachelor's degree in Polymer Science from Seoul National University.
Justin Jin is an energy and material science expert known for his trailblazing contributions to the world's second thermoplastic composite technologies development on a mass scale.
His extensive portfolio features 30 patents, covering a wide array of applications from automotive chassis and aerospace components to advanced construction materials.
With over 32 years of experience, he has held managerial roles for 22 years at a leading Korean company and for 7 years at a German composite firm. Currently, he is at the forefront of microgrid technology, specializing in Battery Energy Storage Systems (BESS), Virtual Power Plants (VPP), and energy-efficient building systems.
Throughout his career, he has successfully led projects across Europe, Asia, and North America, with a focus on composite buildings. His research endeavors also include sustainable building collaborations with the Massachusetts Institute of Technology (MIT).