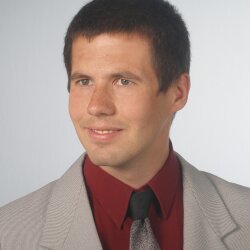 dr inż. Rafał Kozera
Company: TECHNOLOGY PARTNERS
About the speaker:
Rafał Kozera graduated from the Warsaw University of Technology, Faculty of Materials Science and Engineering.
Winner of the first prize in the 18th edition of the Fiat Chrysler competition for the best doctoral dissertation. He was the R&D leader on the side of the project leader responsible for the scientific aspects of the European-Canadian PHOBIC2ICE project. Currently, the IceSurfer project manager, in which he continues research in the field of icephobicity.
Over the past 5 years, he has provided 35 documented expert opinions and surveys commissioned by industry. He completed many scientific internships and trainings in Poland and abroad, which allowed him to gain practical experience in the production and characterization of composites, also with a polymer matrix. He uses advanced methods of preparation and characterization of composite materials, among others high-resolution scanning and transmission electron microscopy (STEM), ultramicrotome, atomic force microscopy (AFM), thermal analysis, hydro and iceophobic testing methods.
"Always look on the bright side of life", he says.